More than a Traditional Wellness Clinic.
We're here to be the leading advocate for your well-being and empower you toward a healthy and wholesome life.
Our Wellness Clinic Offers a Harmonized and Collaborative Approach to Improving and Sustaining Your Overall Health.
Some wellness clinics focus narrowly on a few specialties or just providing services. Bridging Health Clinic effectively combines modern medicine, alternative medicine, and therapies with real-world experience and unwavering dedication to help our clients and the surrounding community gain TRUE wellness.
We offer primary care, family medicine, nutritional planning, massage therapy, herbal practices, fitness coaching, and education to individuals and organizations in the Shenandoah Valley.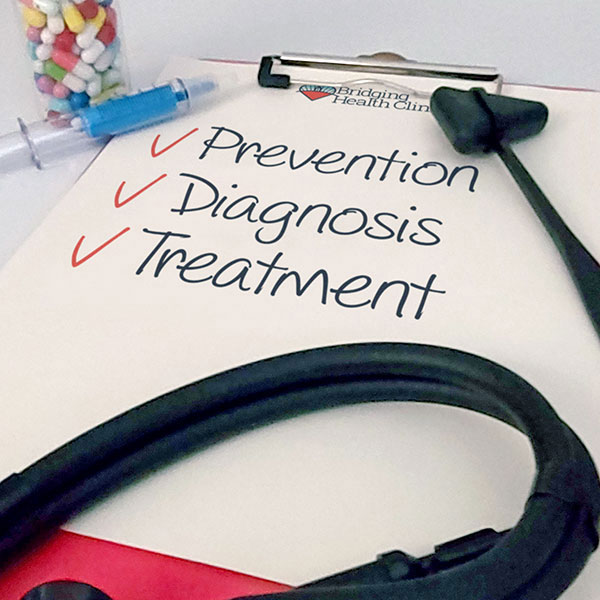 Family Medicine and Primary Care
Primary health care is centered around the needs and preferences of individuals, families, and communities. It addresses the broader determinants of health and focuses on the comprehensive and interrelated aspects of physical, mental, and social health with the goal of optimizing health and well-being. We diagnose and treat various acute illnesses, chronic conditions, and minor injuries. We will order labs or other diagnostic tests, and will send referrals to specialists when necessary. Our services include acute care, chronic care, pediatrics, geriatrics, hospital follow-ups, adult physicals, and children's wellness exams (including sports physicals). See Pricing Below.
Telehealth
Telehealth is the distribution of health-related services and information through videoconferencing. This exciting technology enables us to maintain long-distance patient and clinician consultations and care when regular office visits are not available or practical. See Pricing Below. The following services may be available via telehealth:
Acute and/or Chronic Care
Nutritional Coaching
Hospital Follow-ups
Functional Fitness
PLEASE NOTE: Telehealth services are only available to residents of Virginia.
Massage Therapy Consultation
Bridging Health Clinic considers massage to be much more than just an alternative therapy or a way to unwind. We offer individualized massage therapy with an emphasis on trigger points, muscle energy techniques, myofascial release, and general stretching to address common aches and pains. Our focused and educational massage sessions are provided with the goal of empowering and encouraging clients towards self-management of their symptoms. See Pricing Below.
Nutritional Coaching Consultation
Nutritional coaching is available to help the patient understand the basics of nutrition to control weight, improve health, and maximize wellness. Information will include introduction into macronutrients, total daily energy expenditure (total calories needed per day), nutrition label reading, meal building, meal balancing, mindful eating, and online resources to help guide and empower the patient. See Pricing Below.

Functional Fitness Consultation
Functional fitness visits are personalized for each client. The education will focus on proper warm-ups, stretching, core, stability, agility, strengthening, and cool-downs in order to improve balance and overall neuromuscular (nerve and muscle) communication. The teachings will help instill a foundational strength that can be applied to any lifestyle. We utilize body weight and lower-impact techniques with an emphasis on correcting common muscle imbalances. The overall goal is to empower and educate the client to independently improve and manage their fitness objectives. See Pricing Below.
Medical Cannabis Consultation
Recent changes in Virginia law have made medical cannabis legally available to patients with certain indications for use. A consultation will help determine if cannabis will be appropriate for you. A medical cannabis consultation does not guarantee the patient will receive a Certificate of Use. See Pricing Below.

Integration of Herbal Medicine
Brandon has completed a two-year-long study of Herbal Medicine at Sacred Plant Traditions. He loves growing and making herbal medicines. He has been successfully integrating and practicing herbal medicine with friends, family, and clients who are open to and interested in alternative treatments. We recently added a Clinical Herbalist, Dabney Vaccaro, to our health clinic. Dabney has completed a three-year-long study of Herbal Medicine at Sacred Plant Traditions. See Pricing Below.
Workshops and Educational Classes
Bridging Health Clinic offers educational workshops on topics like herbal medicine, self-care massage therapy, nutrition, aromatherapy, yoga, and mental health. Topics will vary and change throughout the year. Visit our Workshop & Classes Page for more information. Also, follow us on social media for other updates, tips, and short educational videos.

Conditions treated include, but are not limited to:
Head and Respiratory: Upper respiratory infections, cold and flu, bronchitis, pink eye, sore throat, pneumonia, sinus infection, earache, COPD (chronic obstructive pulmonary disease)
Gastrointestinal Complaints: Constipation, diarrhea, reflux, IBS
Cardiovascular: Hypertension or high blood pressure, coronary artery disease, heart failure, swelling of extremities
Endocrinology: Diabetes, thyroid issues, obesity
Skin Complaints: Cellulitis or infection, rash, warts
Mental Health: Depression, anxiety, opioid use disorder (suboxone)
Musculoskeletal Complaints: Minor injuries, muscle aches and pains
Allergies and Asthma
Genitourinary: Urinary tract infections, sexually transmitted infections
Neurological: Headaches, neuropathy (numbness and tingling of extremities), restless leg, insomnia
Procedures
Joint and Soft Tissue Injections: Trigger fingers, trigger points, carpal tunnel, knee, shoulder, outer hip
Suture Removal: Removing sutures placed at our office or from an outside office
Callus Debridement: Shaving and debriding calluses
Wound Dressing: Dressing changes, steri strips
Skin Tag Removal: Treated with liquid nitrogen
Skin Lesion Removal: With or without biopsy
Wart Removal: Treated with liquid nitrogen
Ear Irrigation: Impacted ear wax
Skin Sutures: Minor injuries
Cysts: Removal or drainage
Attend Your First Exercise Class for Free!
All you have to do is show up at one of our Yoga for All, Functional Fitness, Kinetic Kickboxing, or Functional Stretching classes, and we'll let you join us at no cost for your first class. It's as simple as that.
Check out our calendar of Exercise Classes and we hope to see you at an upcoming class! (This offer applies to Exercise Classes only.)
Wellness Clinic Pricing
We are a fee-for-service wellness clinic and do not bill any insurance. However, patients will be provided the necessary information to file claims to their insurance on their own.
ATTENTION MEDICARE BENEFICIARIES: We have chosen to opt-out of the Medicare program, but you are welcome to receive care with us under a private contract. Understand that you have the right to obtain care from a provider who does participate with Medicare. Please download the Medicare Private Contract for more information.
Please be aware that labs, imaging, diagnostic tests, and prescriptions will add separate, additional costs. These extra costs may be covered by insurance, depending on individual plans and benefits. For those patients who are not insured, we will inform you of the costs to the best of our ability.
Bridging Health Clinic has a Sliding Fee Discount Program available with an approved application for those with limited means to pay. Download your sliding fee discount application HERE and return it to the clinic to see if you qualify.
Appointment Cancellation, Late Arrival, and No-Show Policy
Bridging Health Clinic is committed to providing quality care to every patient and reserves a pre-scheduled time for everyone who has made an appointment. If you need to cancel or reschedule your appointment (for either office visit or telehealth), we kindly ask that you contact us within 48 hours of your appointment time. Failure to provide a 48-hour notice may result in an administrative fee of $50 per occurrence.
General Wellness Clinic Visits and Follow-ups ($50)
Includes acute care and most follow-ups
Complex Wellness Clinic Visit ($100)
Includes chronic care and new patients
Telehealth
$100 for new patient
$50 for established patient
Medical Cannabis Consultation
$150 for new patient
$125 for established patient
Hospital Follow-up
$100 for new patient
$50 for established patient
Massage Consultation
$100 initial intake (60-90 minutes)
$50 follow-up (30 minutes)
Swedish Massage: $75/hour
Prenatal Massage: $75/hour
Functional Fitness Consultation
$100 initial intake (60-90 minutes)
$50 follow-up (30 minutes)
Nutritional Coaching Consultation
$100 initial intake (60-90 minutes)
$50 follow-up (30 minutes)
Physicals
ADULT (General Adult, Pre-Employee, Pre-Operation, or College Physical)

$175 for new patient
$150 for established patient
Bridging Health Clinic does not provide DOT physicals

CHILDREN/ADOLESCENTS (Wellness Exams) $125
SPORTS PHYSICAL $75
Comprehensive Health Consultation ($250) (2 hours)
Joint Injection ($150-175)
Minor Procedure ($50-175)
Our Clinic is Your Clinic.
Let's Take Your Journey to True Wellness Together.
Still Need More Info? Contact Us.
IF THIS IS A MEDICAL EMERGENCY, PLEASE CALL 911.
This contact form is only for general information about Bridging Health Clinic. It is not intended for sharing Protected Health Information (PHI) or discussing medical issues. If you have a medical question or would like to schedule an appointment, please call us at (540) 442-3196 or request an appointment online. Please note, an appointment requested online will have to be confirmed by us after it is submitted, which may take up to 48 hours. The quickest way to schedule an appointment is by phone.